The Libramont Agricultural Fair took place from 28 to 31 July in the Belgian town of Libramont. Every year, the fair attracts thousands of visitors. This year, 200,000 people attended Belgium's biggest agricultural event.
Hemp at the heart of "The Biobased Village"
For this year's fair, Valbiom organised "The Biobased Village". This village included an exhibition area dedicated to hemp and its processing. Beside the textile and the yarns you can obtain from long fibre hemp, other products where also exhibited such as insulating panels, CBD-based anti-inflammatory creams, oil, chocolate... the exhibition area showcased hemp's more or less well-known applications. And among these applications, textile hemp caught the eye of the curious. With hemp yarns of different diameters, thin or thick fabrics, T-shirts... visitors discovered the potential of textile hemp.
The Hyler hemp turner on display attracted a lot of curious looks and raised a number of questions about its use and the cost of purchasing and operating such equipment, underlining the importance of having high-performance, innovative machines that are suited to growing hemp fibre.
The explanatory panel at the fair and Valbiom hemp team were on hand to answer visitors' questions. How similar is this crop to flax? How is it different? What are the associated costs? From the simply curious to potential future players in the sector, the Libramont Fair was the venue for many discussions on the subject.
Bringing the industry together
Monday 31 July was devoted to hemp. In practical terms, it included a conference led by Bart Depourcq, Chairman of the Alliance for European Flax-Linen & Hemp and Managing Director of Van de Bilt, Valentine Donck, Biosourced Textiles Project Manager at Valbiom, and Geoffrey Floymont, Agricultural Production Project Manager at Valbiom and all active within the Interreg project Hemp4Circularity.
This was an opportunity to take stock of the hemp and flax market, present the state of the hemp sector in Belgium today and present inspiring initiatives around hemp internationally. The session was followed by a question and answer session, as well as a networking moment allowing the players to exchange views with the Valbiom teams and with each other, in order to generate questions, answers and new initiatives.
Raising interest among politicians and the general public
The Hemp Day was marked by a visit from the Belgian Prime Minister Alexander De Croo, accompanied by the Walloon Minister for Agriculture and the Economy, Willy Borsus. Intrigued by the Hyler hemp turner, the politicians listened attentively as the challenges facing the hemp industry and the European Hemp4Circularity project were explained.
Farmers, politicians, the general public and potential consumers... the Libramont Fair was a great opportunity to talk to the players in the hemp textile industry. The discussions resulted in a list of contacts interested in the Hemp4Circularity project, illustrating the importance of reaching out to the public.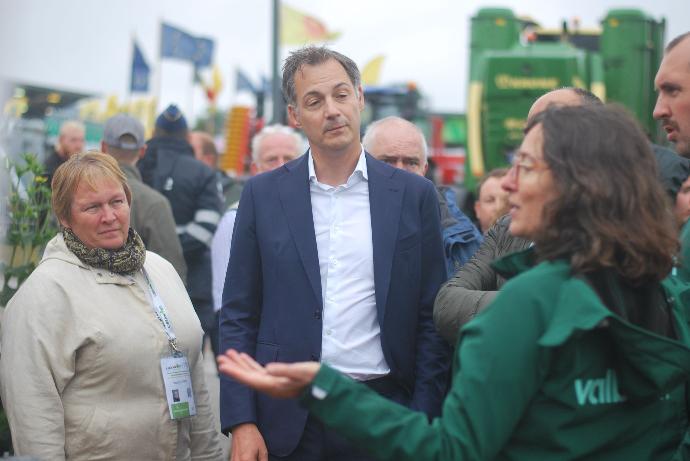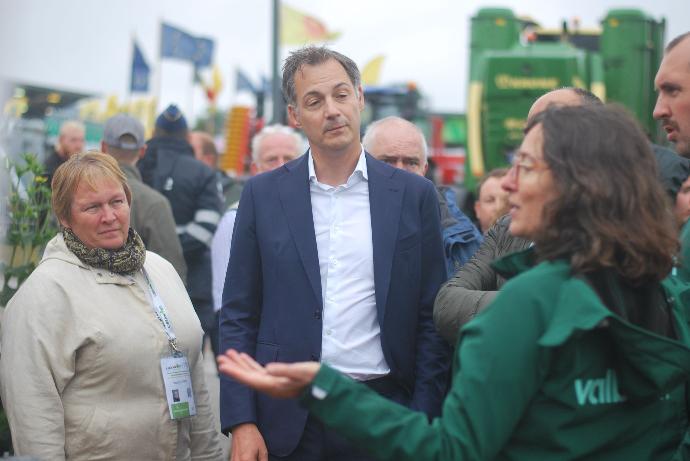 200 000
visitors on the fair
60
participants at the hemp conference and the networking event

40
contacts interested in the Hemp4Circularity project